Wondering about the 'Visibility - Coursefinder' option in your group settings? Here is what you need to know.
What Is It?
CourseFinder is a public recommendation engine that helps students discover new courses and certifications. Individuals can visit coursefinder.io to find courses that will result in a credential issued through Accredible.
Users can filter by category, course provider, skill, or language to be presented with an array of course options. Clicking on the name of the credential will direct them to your website.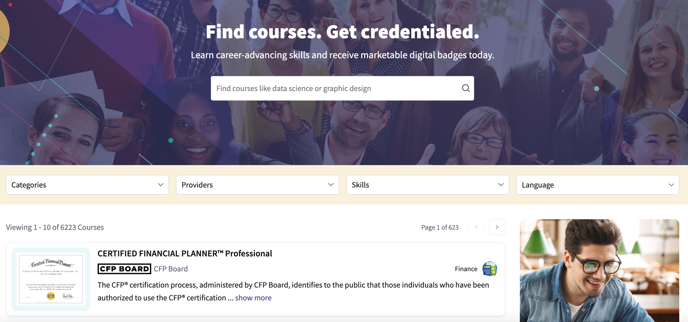 How Do I Enable It?
1. Click on the 'Groups' tab at the top of the Accredible Dashboard.
2. Navigate to the 'Group Settings' for the group you want to be included on CourseFinder.
3. Select 'Visibility' from the menu on the left-hand side.
4. Tick the box next to 'Visibility - Coursefinder'.
5. Press 'Save'.
---
Has this article helped you? Let us know!
If you would like to tell us about any improvements you feel could be made to this page, you can email us at support@accredible.com.